Athens Color Cube Luxury Apartments
'Athens Color Cube' is a project which proves that architecture can thrive, while providing a pleasant, modern and luxurious hospitality gateway in the very center of Athens.
ATHENS COLOR CUBE LUXURY APARTMENTS
Luxury & Comfort
The six-storeys building on 43 Aiolou Street was constructed in 1974 based on a study by the famous Athenian architect Alex. Kalligas, intended for a purely professional use, with single large open space rooms on each floor, which mainly housed offices and commercial activities. The aim of the renovation was to change the use and refurbish the 4th floor, totaling ~ 400.00sqm in 6 modern apartments.
BOOK NOW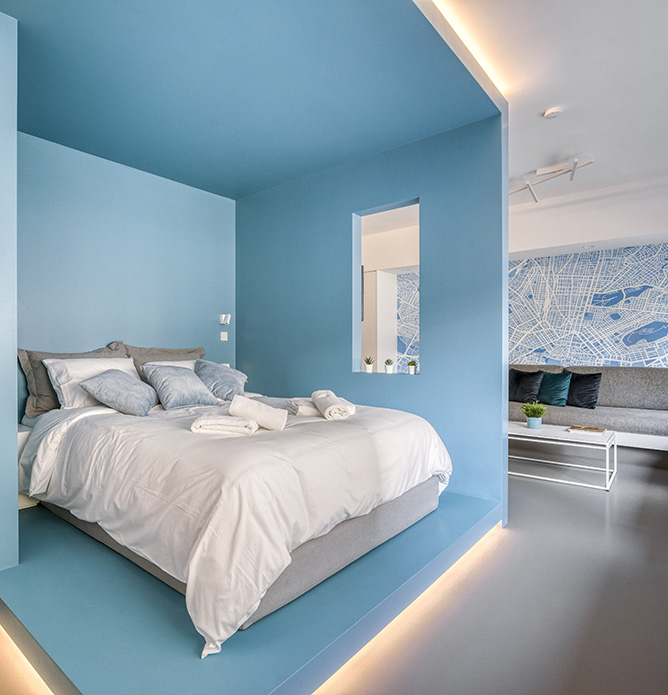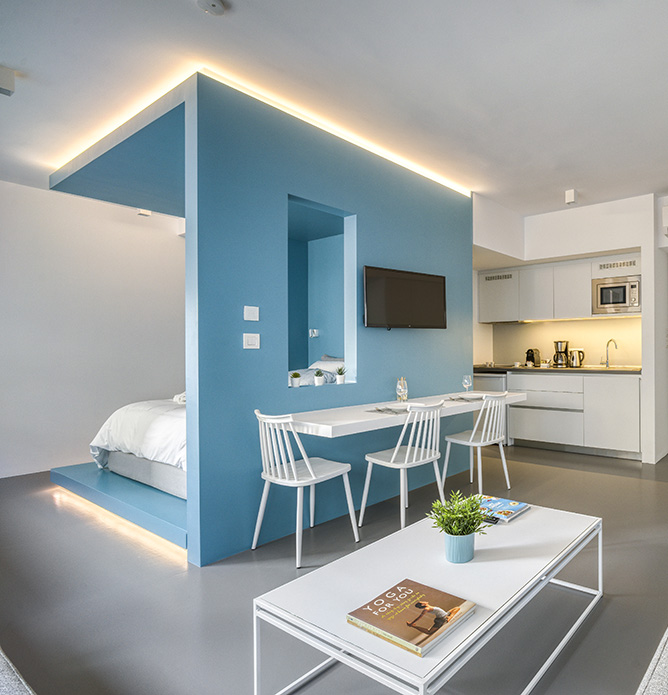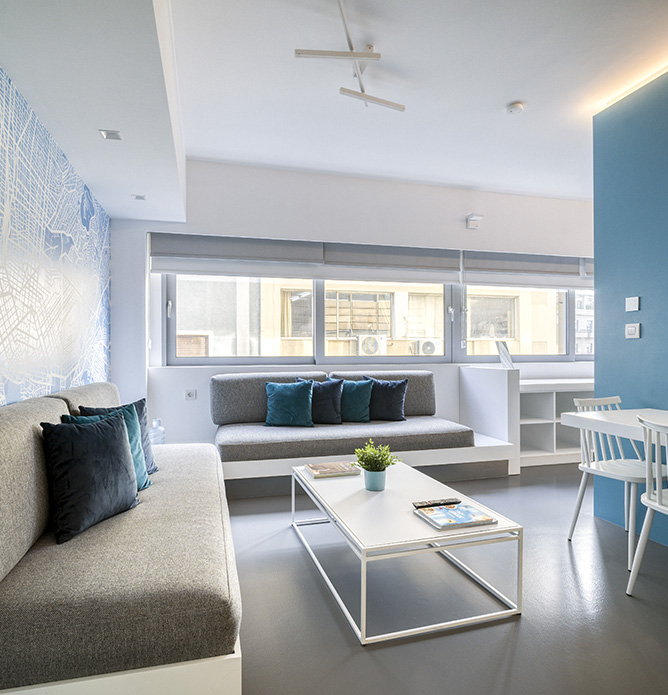 The concept was based on the desire to create apartments with open floor plans, respecting the need for larger spaces, while avoiding seperation of each apartment in smaller individual rooms.
In each apartment we decided to create semi-open "spaces" in the room, which would mark the sleeping space and offer the necessary privacy.
These "cubes" are the core concept of our apartments and around them, we develop and shape the other uses of the apartments, such as the living room, the kitchen and the bathrooms.
The cubes are freely placed in the space, having in most cases, their two sides open, while slightly elevated by the living room.
The choice of the intense and different colors we painted the cubes, was done with emphasis to the notion of space within the space, but also to give a charming character of accommodation.
We believe that hosting is a combination of many little things that make our guests content every time they reach our apartments.
We like clean lines, spotless surfaces and emphasis on modern minimalism which promotes a comfortable stay.
We love convenience, technology and smart home.
We enjoy being at the city center, linking our ancient vicinity, to our modern apartments.
We appreciate the communication with our guests.
We are proud to present the six modern and sophisticated apartments of 'Athens Color Cube' project, located in the most convenient pedestrian street at the heart of historic Athens.
UNIQUE LOCATION
Athens Color Cube Luxury Apartments
Athens Color Cube Luxury Apartments are in the heart of Athens' Historic Centre, at Aiolou street. 250m from Monastiraki Square and the Metro Station. Aiolou Street is the epicentre of the Commercial Triangle of Athens, one of its most historic neighbourhoods.